Strategic vision for specialty coffee
(21/02/2019, 08:05)
Recently, Dak Lak province is particularly interested in developing policies to orient organizations and individuals in developing production and participating in the specialty coffee market. This approach is expected to contribute to raising the value of Buon Ma Thuot Coffee brand and creating a new direction for Vietnamese coffee in the world market.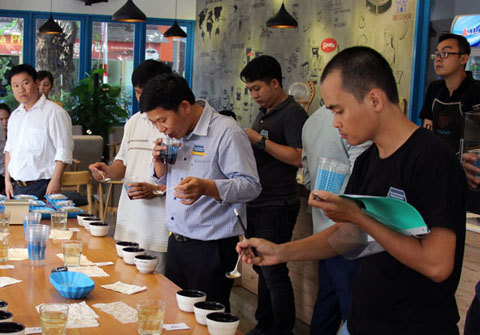 The tasting council for specialty coffee is organized in Buon Ma Thuot at the end of June, 2018.
Currently, besides the certified sustainable coffee production, some coffee producing and trading enterprises in Dak Lak are cooperating with farmers in the area to boost production of specialty coffee. In addition the initiative of enterprises, farmers also started to participate in this "playground".
Mr. Ta Duy Thanh in Ea Tan commune, Krong Nang district has 3 hectares of coffee. Previously, he planted coffee under the traditional method, his profit at this time depended on the weather and market price, so despite much investment, the economic efficiency was not much. With the mobilization of coffee experts, Mr. Thanh decided to join Ea Tan Cooperative to develop specialty coffee in 2015.
Unlike normal coffee production, this high-class coffee product - specialty coffee is cultivated and produced quite elaborately with 3 different forms of wet processing, wet selling and natural processing. Each way of processing brings each special flavor, creating a huge variety and originality for the potential products in Vietnam's specialty coffee market.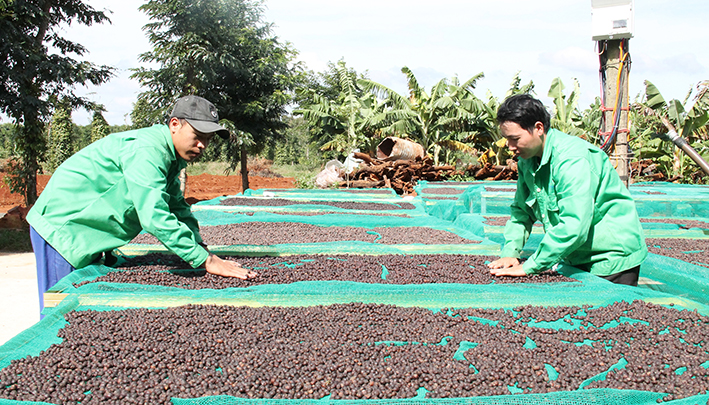 Drying coffee in the natural fermentation method at MINUDO Farm-Care Co., Ltd.
To help people know the value of this coffee product, Dak Lak September 2nd Import-Export Company Limited (Simexco Daklak) has produced "Buon Ma Thuot Fine Robusta" coffee according to different processing methods at Ea Tan cooperative, Krong Nang district with an annual output of about 30 tonnes and an export output of about 15 tonnes with a price increase of about 40% compared to the market price.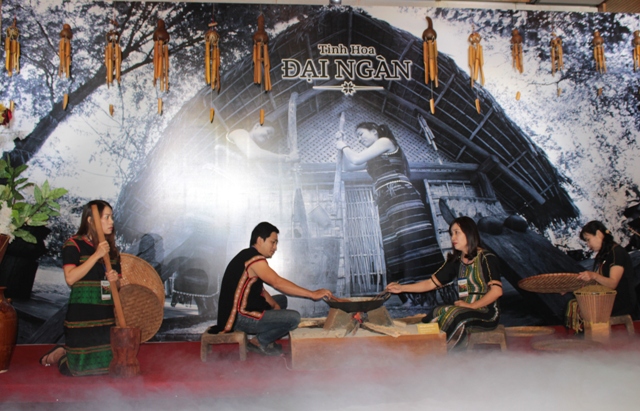 Performance of traditional coffee processing at the Press conference on the Coffee Festival, 2019
Mr. Trinh Duc Minh - Chairman of Buon Ma Thuot Coffee Association acknowledged, specialty coffee is considered as the culinary arts due to its specialty from the production to preparation although it comes after instant and machine-blending coffee. This is a new direction to raise the brand value for green coffee with Buon Ma Thuot geographical indication. Additionally, the specialty coffee has not only contributed to raising economic efficiency for coffee growers but also created an opportunity for coffee lovers in Vietnam to know other flavors, besides the inherent flavor.
The specialty coffee market has been established about for years, firstly in the U.S., then in Europe and Japan, etc. This coffee product accounts for about 2% of the total world coffee production. Although the market share is low, but it brings higher added value, from 5-10 times depending on types of coffee.
Until now, the development of specialty coffee in Dak Lak is only in the first phase with a little area and low output. On the one hand, there is not enough material and technical facilities as well as human resource to focus on developing this coffee product. However, the most importance is to change the awareness of coffee growers, as well as create good outputs intended for people to invest in developing specialty coffee.
Production of specialty coffee of Trung Nguyen Legend
Emphasizing on the key task at the conference on implementing coffee crops in 2018-2019, Standing Deputy Chairman of Dak Lak Provincial People's Committee Nguyen Hai Ninh affirmed that coffee is still a key plant and export item of the province. Particularly, in the 2017-2018 crop year, Dak Lak has developed the specialty coffee. This is a new development direction, consistent with consumer demand in the world. In the upcoming crop year, localities focus on improving productivity and quality of coffee in the area; encouraging households to invest and apply science and technology to cultivation and intercropping; developing more specialty coffee growing areas; boosting to call, attract investors to deep processing; promoting domestic market consumption; promoting coffee protection with Buon Ma Thuot geographical indication in foreign markets.
To promote specialty coffee products, during the 7th Buon Ma Thuot Coffee Festival in 2019, Buon Ma Thuot Coffee Association will hold the Specialty Coffee Competition to discover specialty coffee shipments; at the same time inviting coffee roasting experts to directly taste to evaluate product quality.
Also, according to Mr. Trinh Duc Minh – Chairman of Buon Ma Thuot Coffee Association, coffee products that reach 80 points or higher according to the 100 points of the Specialty Coffee Association of America will be classified as the specialty coffee. This scale is built according to many criteria, including factors related to soil, scent, acidity, sweetness, grain quality and roasting methods.
To evaluate Buon Ma Thuot's coffee, in the two coffee harvest seasons of 2015 - 2016 and 2016 - 2017, the Association has taken 130 samples of coffee in the material area for experts to evaluate quality. As a result, over 10% of coffee samples reached 80 points or higher and can produce specialty coffee products.
Source: daklak.gov.vn