March: Festive Season in Buon Ma Thuot
(25/02/2019, 10:15)
"March is the season when bees make honey, elephants go to the river to take up water, and people go to the fields to do farming ..." – lyrics of the song "March in the Central Highlands" will probably be familiar to those who love this land in general and Buon Ma Thuot, a windy and sunny place, in particular.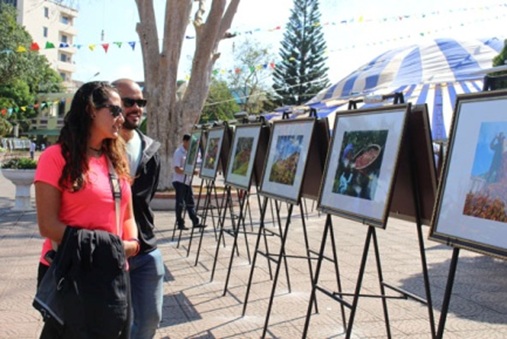 Tourists visit the photo exhibition at the 6th Buon Ma Thuot Coffee Festival in 2017
Buon Ma Thuot is a city directly under Dak Lak Province, located in the center of basaltic soil of the Central Highlands region. The weather in Buon Ma Thuot is quite interesting when you can enjoy four seasons in one day. It is cool like the spring in the morning, hot and sunny like the summer at noon, comfortable like the autumn in the afternoon and cold like the winter in the evening.
With such advantages of geography and climate, Buon Ma Thuot has quickly become the largest coffee producing area in the country and contributes to raising Vietnam's coffee position to become one of "powers" of coffee. Moreover, Buon Ma Thuot is also home to many other ethnic groups including Ede, Gia Rai, M'Nong, Thai, Tay, Nung, etc. Each ethnic group has its own color and culture, festivals which also contributes to the cultural diversity of this place.
Are such many things "Only in Buon Ma Thuot" attractive enough for you to come to Buon Ma Thuot in this March? Specially, the 7th Buon Ma Thuot Coffee Festival will take place from March 9-16 and a series of events will be held to honor Buon Ma Thuot coffee and color of ethnic people living in the Central Highlands to many tourists.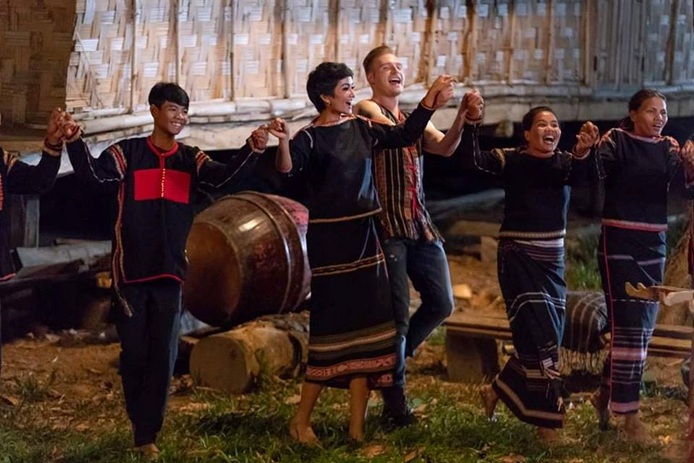 Miss Universe Vietnam H'Hen Nie will be the Ambassador and accompany the Festival programs
It is easy to visit Buon Ma Thuot because there are direct flights from Hanoi, Saigon, Hai Phong to Buon Ma Thuot with flight time from 35 minutes to over 1 hour 30 minutes. In order to save money, we often choose VietjetAir flights with reasonable flight time to spend the weekend here. Just by surfing Facebook, I have seen this year's festival atmosphere in Buon Ma Thuot. It reminds me about interesting experiences at the last festival.
I returned to Buon Ma Thuot in the middle of March because I love the blue sky with white clouds, light wind, smell of coffee flowers in the coffee fields, gong sounds, and traditional dances of ethnic groups at the Buon Ma Thuot Coffee Festival. And this is what I am really impressed up to now.
Happily rejoice with the Street Festival
I was born and grew up in the Central Highlands, then studied at the university and found a job in Ho Chi Minh City. Therefore, when I was witnessed, I could live the days of Buon Ma Thuot to feel strange. That year, I had never been so happy in Buon Ma Thuot. I felt the joy of local people, of the tourists standing on both sides of the road to make way for the street parade with hundreds of artists passing by, walking and shouting, and dancing in their traditional costumes. Following them was a long line of elephants which were covered with brocades of ethnic minority people and managed by mahouts. Nguyen Tat Thanh Street is normally very crowded but now cedes to this parade, there is no complaint because they have to change direction but are amused eyes. When was Buon Ma Thuot so happy?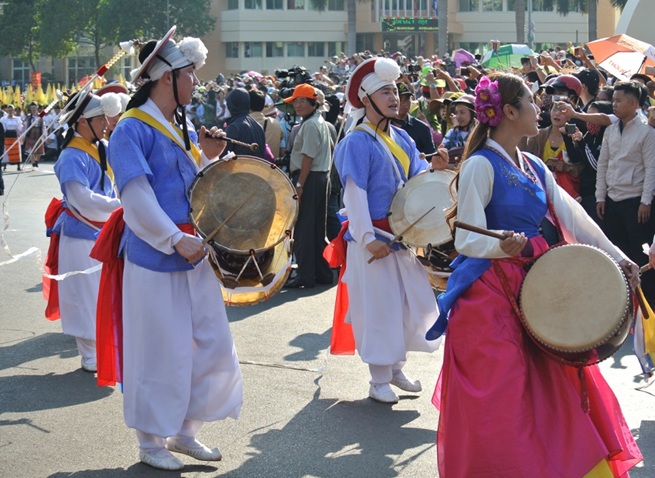 Street Festival at the 6th Buon Ma Thuot Coffee Festival in 2017
Enjoy free coffee
It will be a pity if you do not enjoy cups of coffee which anyone also talk about when visiting Buon Ma Thuot City. Especially, many coffee shops will provide free coffee you to try, experience coffee's taste here.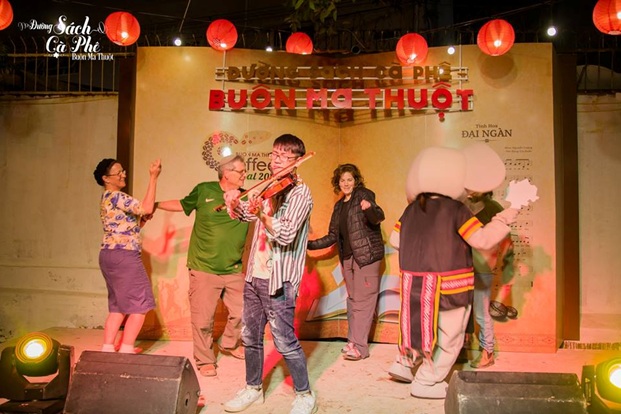 Enjoying art performance and free coffee at Coffee-Book street at the Coffee Festival
People living in Ban Me have many ways to enjoy coffee, such as black coffee with ice which just needs a little coffee and small ice cubes; coffee with condensed milk and ice; or you can order filter coffee, and then sit and see the delicious coffee drops falling into the glass through the filter; and especially coffee with ice cream that you won't find it anywhere else besides Buon Ma Thuot.
You may be surprised when the waiter brings the cup of coffee to you because they are smaller than the cup of coffee in other cities. However, if you are not used to drinking coffee, you may get drunk because of strong favor. The expression of caffeine intoxication is lightly dizzy and tired. At this time, you should drink more water and take a rest for a short time.
See the traditional rituals of ethnic minority people
Luckily, Dak Lak is home to 47 ethnic groups including Kinh, E De, M'Nong, Thai, Tay, Nung ... in which Kinh ethnic group accounts for 70%, and the remaining ethnic groups make up about 30%. With such ethnic diversity, it has created a variety of traditional cultural values, especially their traditional festivals, such as: worshiping ceremony for a new house and water wharf, new rice celebration.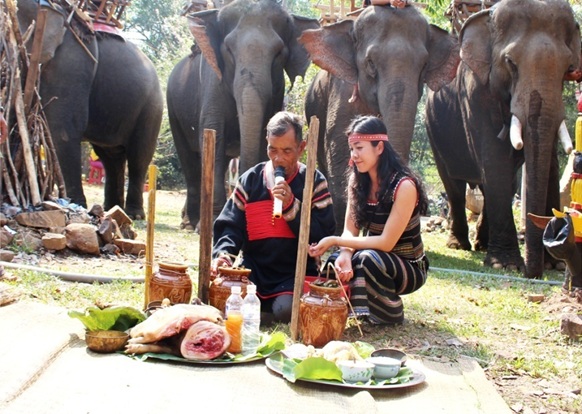 A ceremony for elephants' health
In the framework of the Coffee Festival, you will be able to see some typical traditional rituals of local people, such as the brotherhood of the Ede people in the witness of the village patriarch, shaman and the people living in the village and they will promise to overcome difficulties together. But I was really impressed by the ceremony praying for elephants' health taking place in Buon Don - where there has been a long-time tradition of hunting, catching and taming wild elephants.
For ethnic minority people, elephant is considered a close friend of their family. When the Elephant was born, people hold a ceremony to name elephants. After hunting and domesticating, they celebrate a ceremony to admit the elephants as a member of the family and they hold a ceremony to pray for elephants' health in order to hope that the Gods give health to the Elephant, a part to remind the owners caring for and caring for Elephant health.
Local people also pay much attention to tray of the ceremony on praying for elephants' health including: tube wine, pig's head, pig's bowel, pig's blood, rice, salt, rice ball, chicken, dried fish, brocade, banana stalks, and sugar canes to feed the elephants. After preparation, the rite will be performed by the most prestigious village patriarch or shaman by inviting Yang, god of mountain, and god of river, god of elephants ... to witness the ceremony. After the ceremony, the Elephant will kneel down his front legs to show his gratitude and let the village patriarch apply the pig's blood on elephant's head as witnesses of the gods, then feed banana stalk and sugar canes to the Elephant.
Come to this place, you will have a chance to witness the rite performed by the local ethnic people and see the connection between people and people, people and elephant. Please remember it when you visit Buon Ma Thuot on the occasion of the Festival.
Watch elephant and dug-out canoe racing
Spending about an hour and a half from the city center on the National Highway 27, you will come to Lak district, where there is the second largest freshwater lake in Vietnam behind Ba Be Lake and many M'Nong people are living. Lak Lake is often chosen to organize the elephant and dug-out canoe racing because Lak lake is about 5km wide with a quiet surface and the racing area is only half the elephant's body. However, the elephant racing 2019 will take place in Don Village, so it is very convenient for you to watch the elephant racing and see the ceremony on praying for elephants' health without moving.
Elephant racing often take place on the land and underwater so that the mahouts can demonstrate their elephant taming and training skills. Each elephant wears a cloth with numbers for everyone to follow. The mahouts sit on elephant's neck to control and encourage the elephants to run. You will find how this activity is attractive and interesting if you can come to the place where the elephant racing takes place to see the attraction of this activity. There is no space surrounding the racing course, local people and visitors and especially the photographers like taking unique photos of this activity.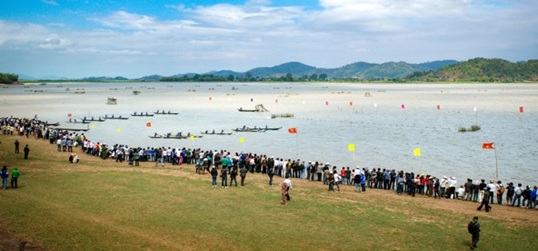 Dug-out canoe racing
These elephants will receive more special care before the race a few days. They do not have to pull wood, carry passengers or do heavy work and are fed more nutritious tubers. When they participate in the race, elephants will be fully fit to run in the atmosphere of cheering the spectators.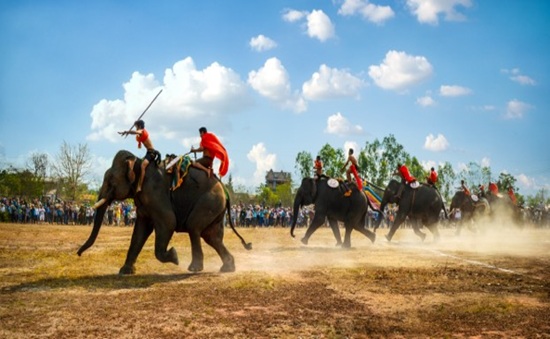 Buon Don elephant racing
The dug-out canoe racing is also an interesting race. As its name, the dug-out canoe is a boat made from a hollowed tree trunk to carry farm products and let the local people move on Lak Lake. Initially, the villagers often held dugout races with small scale after the hard-working days. It is gradually becoming a typical activity of ethnic minorities in Dak Lak in general and in Lak lake area in particular.
Buon Ma Thuot is a peaceful and less crowded city. However, the Buon Ma Thuot Coffee Festival is an opportunity for local people and tourists to live in funny days of "March in the Central Highlands" with gong sound and music, singing and cheering all over the streets of the city as well as the villages in Buon Don, Lak, ... I hope that through this festival, the image of Buon Ma Thuot, cups of delicious coffee, the traditional rites of ethnic minorities in the Central Highlands will be spread out aiming to turning Buon Ma Thuot into a destination for people who love coffee, cultural and traditional values. Come to Buon Ma Thuot City in March.
Some information about Buon Ma Thuot Coffee Festival 2019
• Time: From March 9-16, 2019
• Main topic: Quintessence of the jungle
Specific details and updates on news about the festival: please visit the website: www.lehoicaphe.vn
Source: Vietjet Air magazine