Cooperating with Japanese experts to thrive agriculture in Dak Lak
(08/03/2019, 08:57)
(Thanhnien.vn) With favorable climate and fertile land, Dak Lak is becoming an attractive destination for investors to produce and process high-tech agricultural products.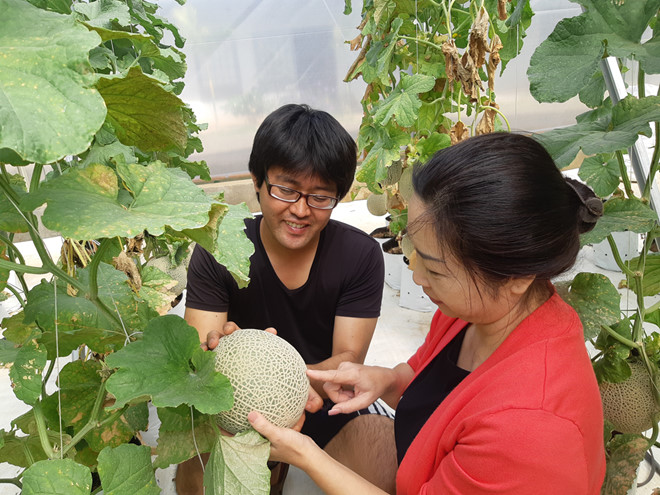 Hiroki Saito on "Japanese quality" cantaloupe garden in Tinh Hoa Farm, Buon Ma Thuot city, Dak Lak
After a sharp cut, Mr. Hiroki Saito – one Japanese, handed me a cantaloupe and said: "the quality of this cantaloupe is no different from its in Japan. We used Japanese cantaloupe seeds to plant and took care of them with the same process as in Japan". Cutting a cantaloupe, we are fascinated by the beautiful turquoise color and when we put one piece on our mouths, everyone can feel the light aroma and sweet taste.
Hiroki graduated with an agricultural engineering degree in Japan, he went to Vietnam and came to the Central Highlands as a predestination. He advised Mrs. Nguyen Thi Hue, Director of Tinh Hoa Farm in Buon Ma Thuot City, Dak Lak from selecting seeds, potting and nursing techniques.
Cantaloupe with Japanese quality
Going around the net house, Mr. Hiroki introduced and explained: "We use a net house to prevent insects because, if there are no insects, it will not need pesticides. The irrigation system is also led to each plant so we can save water and control the right amount of nutrients and water through the automatic system".
For over a year, Mrs. Nguyen Thi Hue has cooperated with Japanese experts to produce high quality cantaloupe. During the last Lunar New Year holiday, everyday she exported hundreds of barrels of cantaloupes to customers in Ho Chi Minh and Hanoi. Pointing at the wilted cantaloupe plant, she explained: "We have learnt from the Japanese expert many knowledge and experiences to make the cantaloupes sweeter. Besides, the selection of varieties is also very important. At the beginning, we had to go to Japan to choose the standard seeds and brought back to Vietnam.
Mrs. Hue specializes in agricultural production and business. When grasping the policy of the province to attract enterprises to invest in high-tech agriculture, she wrote projects, poured her capital and effort into these projects. Mrs. Hue analyzed: "Dak Lak has great potential in agriculture with fertile land, and temperate climate. When the provincial leaders make transparent and attractive policies, we trust and invest boldly in them. I do agriculture not only for my benefit, but also create a model, a production area to help many people produce and get rich".
In order to get the beautiful Tinh Hoa Farm today, Mrs. Hue has been supported promptly and effectively by the People's Committee of Dak Lak province, in particular by the Department of Planning and Investment, Department of Agriculture and Rural Development. Two hectares of currently cultivated land are also supported by the province for long-term lease. Besides, she also cooperated with the Ministry of Agriculture and Rural Development to implement the project of transferring technology of vegetables and cantaloupes planting to farmers.
"The help of the authorities in the province is very timely. I realize that Dak Lak has very specific activities to solve difficulties and create conditions for businesses and enterprises", Mrs. Hue said. Pointing to cantaloupe boxes that are packed in a beautiful Japanese style, Mrs. Hue cheerfully informed the good news that the Japanese delegation recently checked and discussed the plan of importing cantaloupes from Dak Lak to Japanese market.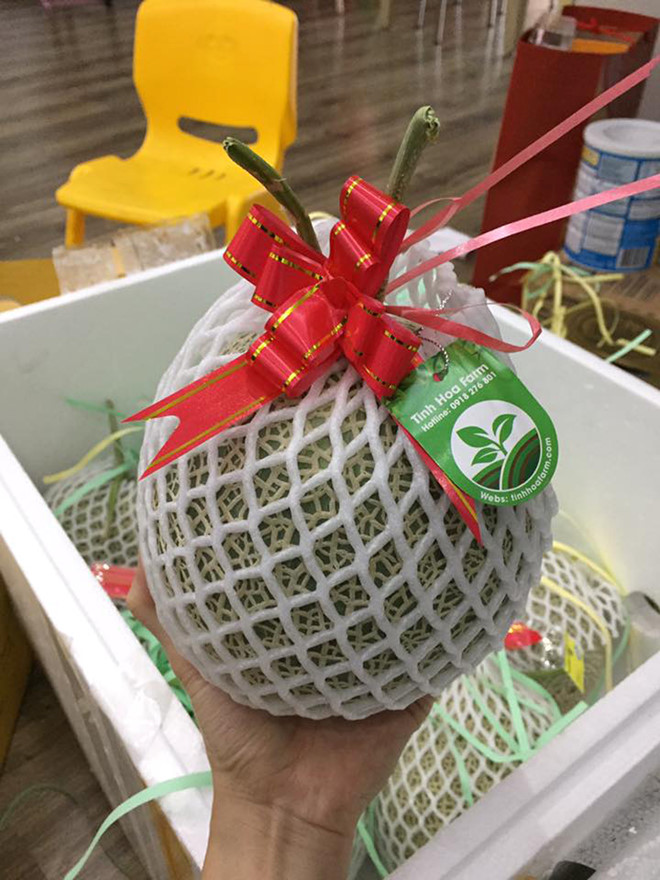 Cantaloupes are packed in beautiful boxes in a beautiful Japanese style
Call for investment in agriculture
Mrs. Hue's success story is an example of attracting and supporting investment in high-tech agriculture in Dak Lak province. The provincial leaders have not only created favorable conditions for businesses to access land but also had strategies to promote products to the world and coffee is an example.
At the upcoming Buon Me Thuot Coffee Festival that will take place on 9September, Dak Lak province will organize a specialty coffee contest. The province has invited well-known coffee experts to Dak Lak to taste and mark. After the contest, the winning coffee will be auctioned immediately. This a very smart way to help Dak Lak coffee brand spread to the international community. Then, local coffee growers and processors will benefit more in the value chain, not just exporting raw coffee as before.
Mr. Nguyen Hai Ninh, Alternate Member of the Party Central Committee, Standing Deputy Chairman of Dak Lak Provincial People's Committee, said that Dak Lak has the policy for investment attraction in developing high-tech agriculture, especially specialty trees.
In the list of projects calling for investment in Dak Lak province, 2019, the province called for investment in 3 projects on agricultural product processing, animal feed processing and mechanical manufacturing plant in Hoa Phu industrial park, Buon Ma Thuot City.
"We conceive that the potentials of Dak Lak are also opportunities for enterprises, Mr. Hai Ninh, Standing Vice Chairman of Dak Lak People's Committee said.