Come to Buon Don Elephant Racing 2019
(11/02/2019, 15:49)
In the framework of the 7th Coffee Festival Buon Ma Thuot 2019, Buon Don Elephant Racing 2019 will be held in Buon Don district (March 11th – 13th, 2019) aiming to promote potentials of the cultural and tourism development, attract investment in tourism infrastructure and gradually bring tourism to a high and sustainable development, positively contributing to the local socio-economic development.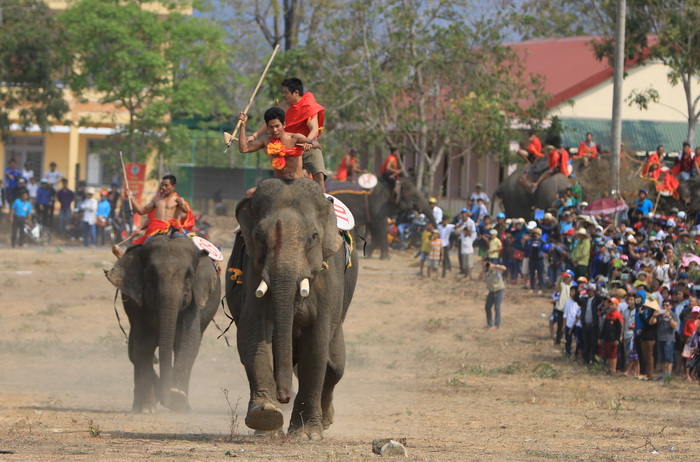 Elephants are in the running competition
According to the plan No.90/KH-UBND issued by Buon Don District People's Committee, the Elephant Racing will take place from March 11th - 13th, 2019 including specific activities: ritual and rites such as wharf offering, elephants' health offering; performance of hunting and taming wild elephants; tug of war between elephants and people; elephant makeup contest; elephant marching; opening ceremony of the Elephant Racing; buffet party for elephants; elephants participating in football contest; sightseeing tours by elephant riding; elephants participating in swimming contest; awarding ceremony for winners after ending each activity.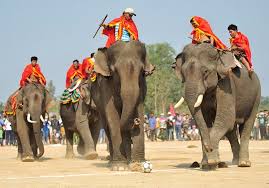 Elephants participate in football contest
It is known that Buon Don is home to 26 elephants owned by travel agencies, Yok Don National Park and several local households. To successfully organize the Elephant Racing 2019, Buon Don District will mobilize 18 elephants representing 18 ethnic groups living in the district. Currently, the local government has mobilized elephant owners to participate in the festival with the number of 12 elephants. The remaining 6 elephants will continue to be mobilized before sending elephants to train and participate in activities within the framework of the Elephant Racing.
Source: Daklak.gov.vn