Changes in homeland 10-3
(16/03/2019, 08:19)
Promoting the glorious and magnanimous tradition of the homeland 10 – 3, the Party, government and people of Buon Ma Thuot city has been focusing on effectively exploiting its potentials and striving to turn Buon Ma Thuot city into a central city in the Central Highlands. With the goal of making Buon Ma Thuot city become a central city in the Central Highlands according to Conclusion No. 60-KL/TW dated November 27, 2009 of the Politburo, the Party, government and people of Buon Ma Thuot city have currently focused on implementing synchronously and drastically their targets and tasks. Recognizing the position, role and importance of the planning activity, the city planning has been actively implemented and gained remarkable results. Since 2010, the urban planning area has been 9,322 hectares, accounting for 91.82% (an increase of 2.74 times compared to the previous period); 35 urban development projects have been approved with a total area of ​​523.4 ha, of which 22 projects have been and are being implemented with a total area of ​​379 ha. Up to now, Buon Ma Thuot city has basically finished the construction of 4 new urban areas of grade I.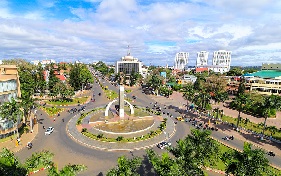 Buon Ma Thuot city is changing everyday. Photo: H. Gia
In addition, the city focuses on prioritizing investment resources into key and important projects which can create a breakthrough in infrastructure development to serve the requirements of socio-economic development and strengthen links between the Central Highlands region and other regions in the country, including Projects of Ho Chi Minh Road, upgrading National Roads 26 and 27, Buon Ma Thuot Airport, urban drainage system, power supply system, etc. Besides, the city government focuses on developing trade, services and tourism in both scale and quality. Activities of trade centers, supermarkets and markets have been strongly developed. The retail market has been well exploited, meeting the needs of society. Trade promotion investment activities as well as large-scale fairs and exhibitions have supported enterprises to seek and open their market. Being one of the first new rural target communes in Buon Ma Thuot city (since 2016), Ea Tu commune has really "changed its look" from landscape and environment to the life of local residents. Mr. Le Thanh Hai, Deputy Secretary of Ea Tu Party Committee said that Ea Tu had changed and developed in all aspects. At the end of 2018, the total food production reached over 1,175 tons, the per capita income reached 35 million VND per year, the whole commune only had 83 poor households. Up to now, 95% of the main roads of villages and hamlets have been asphalted and concreted over, and 85% of the inter-hamlet roads have been concreted over. Currently, the commune is striving to meet a set of advanced standards for new-style rural area for the period 2018-2020. Talking about the changes in his hometown, village patriarch Y Bloa Adrong, Head of the Fatherland Front of Ju Village, Ea Tu commune said joyfully: "I could not imagine that Buon Ma Thuot city has strong changes. The city is getting bigger and more beautiful. Particularly, most of the roads in Ju village are asphalted and concreted, 100% of households have been supplied power and most children are allowed to go to school. Houses has been consolidated and the people are excited and trust in the leadership of the Party and the State ... ".
The ring road 30-4 is invested and built to connect between Buon Ma Thuot city and other provinces
Along with Ea Tu commune, 21 communes and wards in the city have focused on implementing socio-economic development programs, building new rural areas and gained many positive results. By the end of 2018, 8 communes of Buon Ma Thuot city met 19 out of 19 new rural criteria, the appearance of urban and rural areas was more and more spacious and modern.Permanent Deputy Secretary of Buon Ma Thuot city Nay Phi La evaluated that after 44 years of Buon Ma Thuot Victory, Dak Lak liberation (March 10, 1975 - 2019), especially after 10 years implementing the Politburo's Conclusion 60-KL/TW, Buon Ma Thuot city has become the fastest growing and dynamic city in the Central Highlands. Besides developing economics and improving urban transport infrastructure, the Buon Ma Thuot's culture and sports have made progress, social security has been ensured, people's material and spiritual life has been improved markedly, cultural identities of brother ethnics have been preserved and promoted. Potential of defense and security has been strengthened; political security, social order and safety has been maintained. In the period of 2010-2018, the average gross product value of the city reached 9.38 per cent per year; industrial production value achieved an average annual growth of 11.08 per cent per year; retail sales of goods and service reached an average annual growth rate of 16.97 per cent per year; total social investment amounted to VND 33,402 billion; per capita income at the end of 2018 reached VND 78 million, an increase of 3.17 times compared to 2009; while the rate of poor households according to new criteria still accounts for 0.86 per cent.
Source:baodaklak.vn