42 samples registered for Qualifying Round of Vietnam's Specialty Coffee Competition 2019
(04/03/2019, 10:36)
The qualifying Round of Vietnam's Specialty Coffee Competition received 42 coffee samples (34 samples of Robusta coffee, 8 samples of Arabica coffee) from 31 units coming from the provinces of Dak Lak, Dak Nong, Gia Lai, Lam Dong, Northern Provinces and Ho Chi Minh City, the Contest's Organizing Committee said.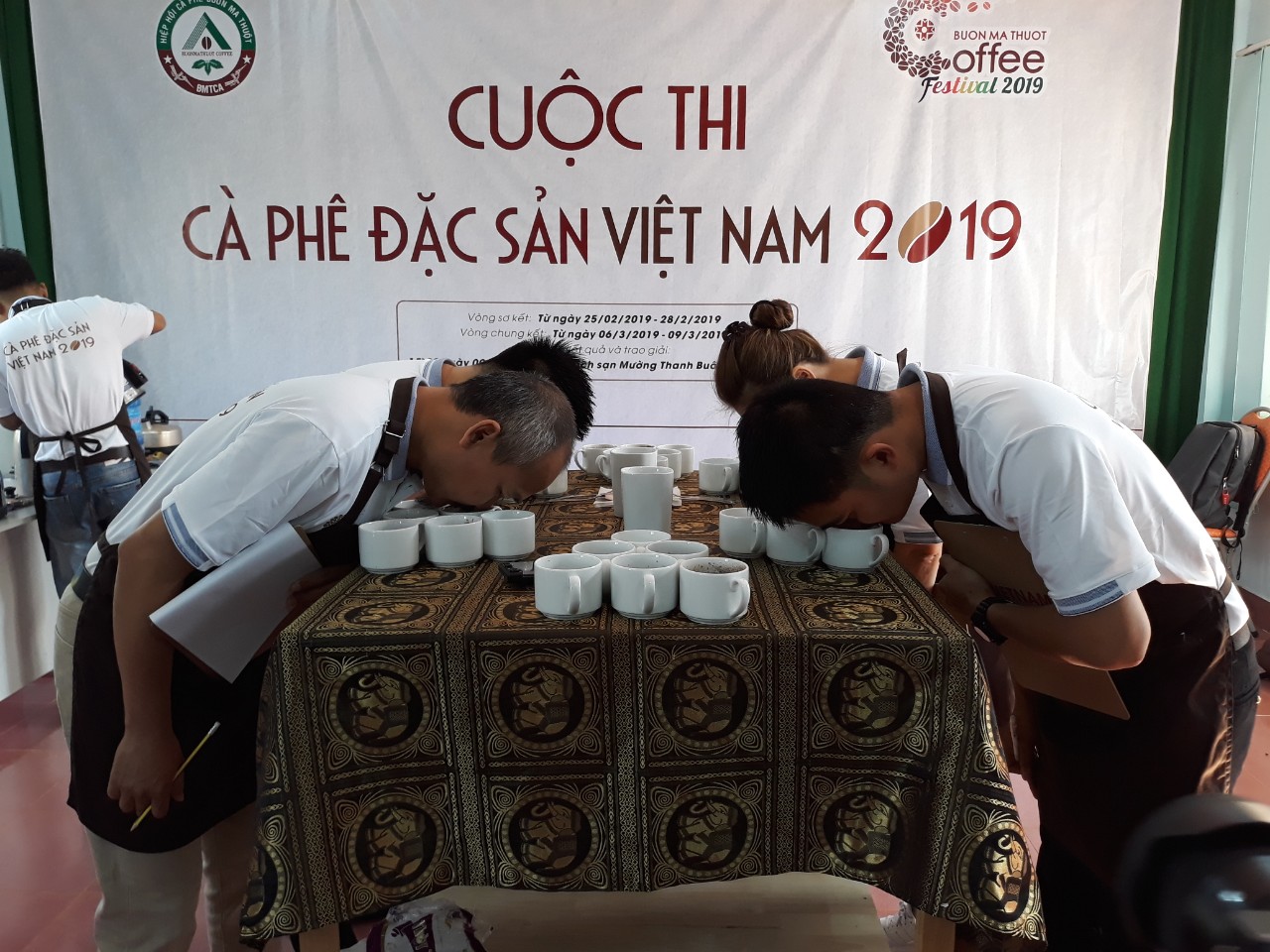 Coffee is tasted by the examiners
The qualifying round has taken place from February 25th – 28th, 2019 at the Western Highlands Agriculture and Forestry Science Institute (WASI) to select coffee samples which get 80 points or more to enter the Final Round held at the beginning of March 2019. The qualifying round was chaired by Mr. Le Trung Hung - Interkom Vietnam Representative Office. The board of examiners is divided into 2 sub-committees: examiners tasting Robusta coffee (4 people); examiners tasting Arabica coffee (4 people). In addition, there is also a support group including 6 people to collect, roast, prepare samples for the Board of examiners, etc.
Vietnam Specialty Coffee Contest 2019 is the first Vietnam's specialty coffee contest to discover and honor coffee and coffee bean production units that meet the specialty standards; to introduce Vietnam's specialty coffee products to domestic and foreign consumers, roasters; to directly connect roasters with specialty coffee production units; to develop the market, consuming demand and added value for Vietnam's specialty coffee, to create motivation for coffee growers taking an interest in upgrading product quality.
Product classification is based on 2 criteria: quality of coffee beans and tasting quality. Physical quality is assessed by Grading Book and the quality of testing and tasting is evaluated by the Cupping Protocols of Specialty Coffee Association (SCA).
Duc Lam